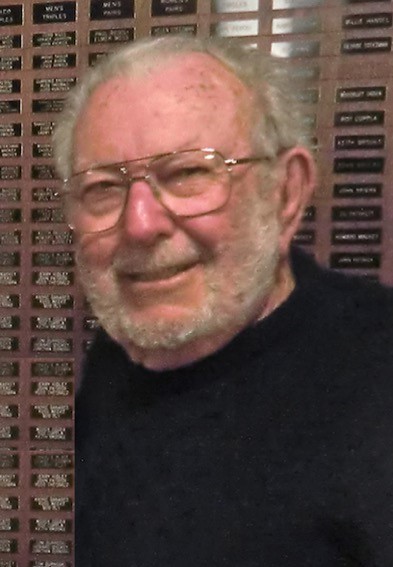 Howard Mackey—long-time BLBC member, former BLBC president, former greens-keeper, former board-member, and former Memorial & Endowment Fund Trustee—passed away on April 15, 2019. Howard crammed a lot of life into his 93 years: he enjoyed taking it all in, and he could tell you hundreds of stories about sailing, RV living in southern California, life in the Bay Area from his childhood to the present day, and bowling. Life did not just happen to Howard – Howard went at life with a remarkable combination of enthusiasm, stoicism, and old-fashioned directness.
Bay Area lawn bowlers consider Howard a Berkeley institution, but Howard considered himself an El Cerrito product. One of those rarities of California — a native — Howard was born to a family that lived in El Cerrito around B Street, near the current Harding School. Howard remembered the days when the dog track (the site of the El Cerrito Plaza) was the epicenter of El Cerrito, then the colorful and corrupt town that escaped Alameda County DA Earl Warren's reformist wrath by sitting just over the Contra Costa County line. He sometimes talked about the squalid trailers not far from his home, where families who worked at the racetrack lived. Seeing this had a profound effect on the young Howard. He was proud of his parents' work as supporters for what eventually became the El Cerrito Good Government League that in 1946 successfully recalled the corrupt city government and replaced 3 council members with league candidates. He would say that there were many reasons for them not to do what they did – but he felt they did the right thing. Howard seemed to live his own life making choices inspired by his parents' integrity.
Howard attended El Cerrito High School and returned to teach there until his retirement. The halls there have articles and photos of Howard serving his community. This writer had the pleasure of coaching former students of Howard who came through the BLBC gates years later. They would reminisce fondly about their time with him.
Howard would want the story of his life to include what a powerful combination he and his wife Barbara (also a bowler and a BLBC member) were. They lived as though their good fortune, robust health, and ability compelled them to serve their community fully.
Howard and Barbara joined the BLBC in 1993, and the couple bowled competitively for many years. The BLBC's winners' board includes the Mackeys in all kinds of competitions. They bowled regularly in PIMD tournaments and did the BLBC proud by bringing back many victories over the years. And whether he bowled well or not on a particular day, Howard never let the fever of competition overwhelm him: he always started and finished a game with a handshake and sincere thanks for the play regardless of the outcome.
Howard bowled for many years as a lethal skip. In later years he preferred to bowl as an equally lethal second. Toward the end of his bowling days, he left the heavy lifting to others and shifted to bowling as lead. When he wasn't working on the green or in the clubhouse, he was practicing with 2 sets of bowls, but with neither mat nor rink markers. He would bowl to a jack that he rolled anywhere on the green. He then walked to the jack, rolled it out to another random spot on the green and so on. During these practice sessions, Barbara might be reading on the bench near the memorial plaque in her name.
When not bowling, Howard and Barbara served the club in countless ways. Barbara served as board secretary for several terms and Howard served two terms as BLBC president. Howard and Barbara enjoyed running the Berkeley Jamboree for quite a few years. They frequently were the first to come set up for events and draw games and just as frequently the last to leave when putting things away. Howard stepped up to serve as greenskeeper for several years, a thankless job that he took on with grace and equanimity. A common sight would be Howard hunched over a piece of machinery, confidently dismantling and reassembling it. He might tell an observer about the first time he worked on a piece of machinery like it — and how he completely messed it up. Ever the teacher, Howard wanted us to know that failure followed by trying again was the key to everything.
Barbara died in 2012, and that took its toll on Howard. He did not dwell upon his loss in a public way, but if he was comfortable with you, he would speak of his loneliness and how strange it felt for him to wake up without Barbara there. He also frequently spoke of the happiness and joy his family brought to him: he knew himself to be lucky and was grateful.
And that is how we at the Berkeley Lawn Bowling Club feel about Howard and Barbara. They gave so much time, labor, love, and goodwill to the BLBC and its members. A grateful BLBC community shall remember them fondly for what they cheerfully provided in so many ways. We offer our condolences to the Mackey family.
Note: A memorial service for Howard Mackey will be held at the Berkeley Lawn Bowling Club on June 15, 2019.