Must have been the beautiful morning, and everyone relaxing after the holidays. We had 20 bowlers on the green this morning!! That was 14 regular full-time members, Harry the annual guest, and five who came for a free lesson. There were four rinks in use, and lots of laughing and pleasant bowling going on all morning. Never one bad moment.
Among the learners was Ben, who will turn 13 in a few days. He stopped by the club Friday afternoon, talked to some of us about how to get to play, then came this morning with his mom – who was also an enthusiastic and competent learner. Ray gave them the basic lesson, then Howard came and joined them for their first game. By the time they were done, both boy and mom were putting bowls in there, and Ben was already starting to skip – telling his partner which way to come, etc. Annie and I were watching closely, and agree that we've got a prodigy in hand! I hope you get to see them when they come back.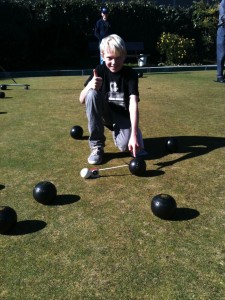 Then a young couple arrived – after 12, actually – but we did NOT turn them away! – we invited them in, they watched till our games were done, then Howard and I gave them their first, short lesson, with Susan and Annie and Millard watching. They enjoyed it very much, and we made a date for them to come again next Wednesday morning for a full lesson.
The last learner was Chris, a tall 40-ish guy who was there for his third time, so you may have met him. He and Harry played all morning. Very nice person!
Cathy