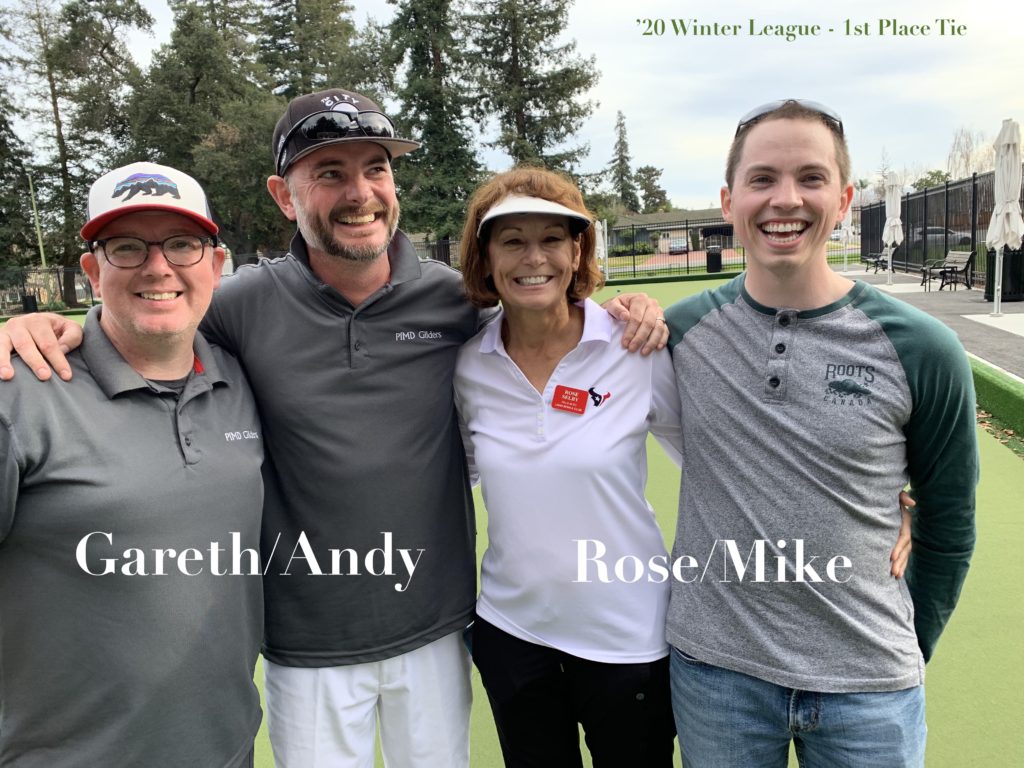 The annual PIMD Winter League finished up its last week on Saturday January 25th and Berkeley Lawn Bowling Club members did exceptionally well. The competition is a Pairs tournament and teams from most of the Bay Areas bowling clubs participated in the three week competition.
Each team played a total of nine games over the course of three consecutive Saturdays. After the first two weeks of competition, only a point separated the the top three teams. Berkeley's defending champions from last year — Andy Vevers and Gareth Cole — held a slim lead of one point over Palo Alto's team of Rose Selby and Mike McNorton. Berkeley's other team of Shawn Roney and Jerry Knott and Jim Corr tied with for second. Berkeley's Rob Hoey and his partner Tim Christie from Palo Alto stood within striking distance at fourth place.
As it should in any closely contested and well played tournament, it all came down to the final day of play. The final day of play confirmed the 2020 contest to be closely contested with very good play on offer from all the team. Jerry and Jim and Andy and Gareth played each other in the first game. Jerry and Jim came to play, and they took the win despite the efforts of Andy and Gareth to rally. Jerry and Jim's win put them in the driver's seat for the First place tournament finish.
Alas, it was not to be. They lost their next game against a team from San Francisco that put a dent in their title aspirations. Meanwhile, the Palo Alto team of Rose and Mike quietly and convincingly won all their games and gained advantage of the Berkeley pairs first game slip up to take the top position. Andy & Gareth did all they could by winning their other two games of the day, but it all came down to the last couple of bowls of the tournament. Fortunately for the Berkeley lads, Rose and Mike could not take the maximum points on their final game, which left the field with a tie for 1st place. In view of the high levels of skill and grit on display, many may consider this a fair outcome.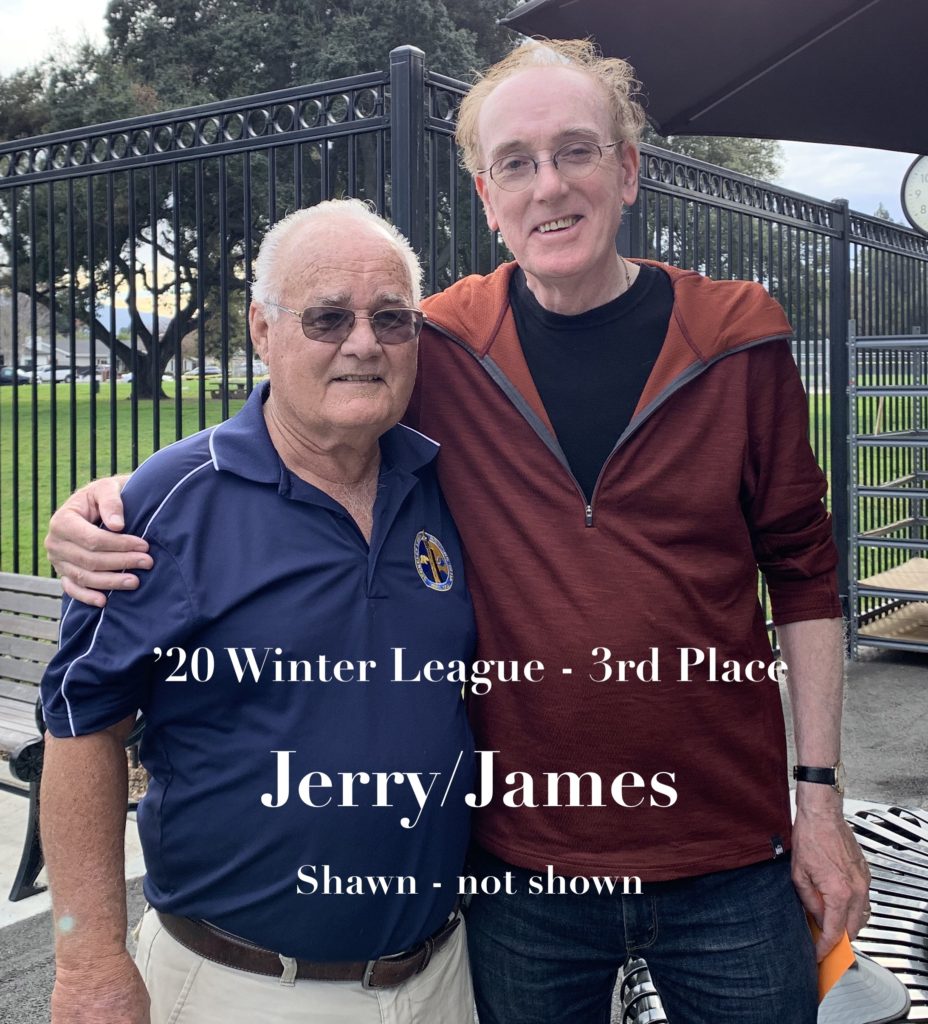 The final results were as follows:

Tie 1st – Andy Vevers & Gareth Cole (Berkeley)
Tie 1st – Rose Selby & Mike McNorton (Palo Alto)
3rd – Shawn Roney/Jerry Knott & Jim Corr (Berkeley)
4th – Tim Christie (Palo Alto) & Robin Hoey (Berkeley)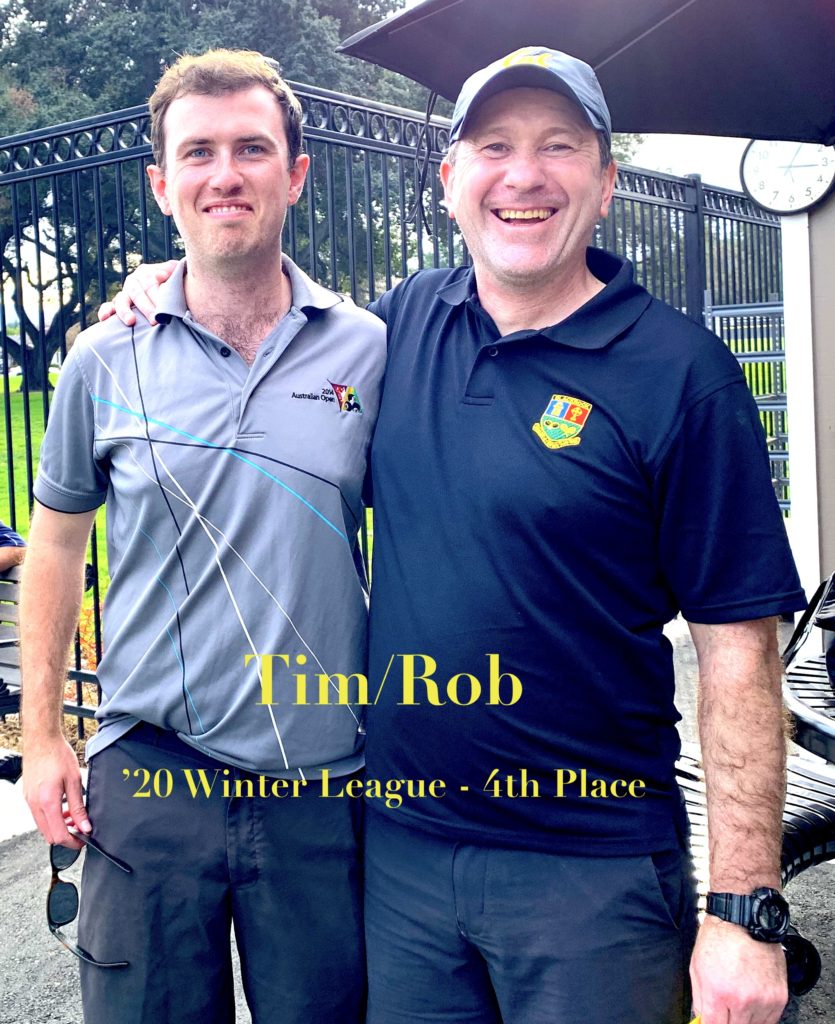 As the reader can see, a really good result for the Berkeley teams that further cements our reputation as one of the most competitive clubs in the greater Bay Area. Many thanks to the San Jose Lawn Bowling Club for hosting a well run and genuinely fun event.