Some of you will remember the PIMD Women's Fours Team of Ginger Harris, Mary Scott, Cathy Dinnean and I won 1st Place in the 2nd Flight at the US Open last September. Well, the PIMD ladies were at it again at this year's SW Open. The Women's Fours Team of Ginger Harris, Judith Perkins, Mary Scott and I bowled our way into the Championship battle for 1st and 2nd Place!
On day one, we won two and lost two. That was just enough to move us into the 7th position of the Championship Flight. On day two, our first game was against the number two team, a very formidable opponent! After 14 ends, we were tied, so we had to play a one end sudden death play off. We won the toss, and I rolled a long jack. We won! In the second game we were bowling against Joanne Kluck, Angie Peet (also from PIMD) and two women from the SW division. I think it's fair to say they were considered to be the PIMD favorites. Once again we were tied after 14 ends–but only because of a spectacular last bowl by Ginger Harris! They won the toss and rolled a medium long jack. We held it together and won. All of a sudden, we were bowling against the strongest SW team for 1st and 2nd place! (Joanne and Angie's team went on to win 4th Place. Kudos to them!)
The SW team (Maryna Hyland, Heather Stewart, Jan Hargraves and Betsy Lauryssen) won the toss, rolled a short jack and won the point. Over and over, we kept them to one or two points, but they kept rolling those pesky short jacks. Finally, when we were down 1 to 12, we adapted and won the point. Ginger asked me to roll a long jack, and I did. Over and over again. We crept up until we were two points from tying on the 14th end. Would this be yet again another sudden death play off? Sadly, it was not to be. But we sure made the SW team work for their win!
My understanding is this is the first time in a long time that PIMD women's teams made it to the Championship Flight. Well done to both PIMD Women's Fours Teams!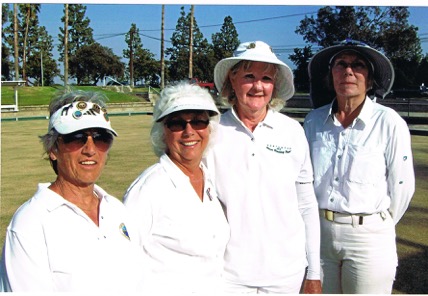 Provided by Ann Brillhart