Cris Benton, a Berkeley novice (less than two years' membership), won the 2014 PIMD Novice Tournament going undefeated over two days of bowling at the Oakland Lawn Bowling Club. Both he and Rob Hoey, another Berkeley novice (and the current PIMD Open Singles Champion, a stellar achievement for a "newbie") were undefeated on Saturday October 18 and proceeded on Sunday to the round robin final stage along with Lucien Salyk of Oakland and David Peters of Rossmoor. Each match involved unlimited ends with the winner being the first to accumulate 18 points.
In the first Sunday game, Rob played Dave in a 3+ hour game that was tight. Rob fell behind early but battled back right up to the end. Then his luck turned and Dave came through for an 18-16 win. Meanwhile, Cris prevailed 18-8 against Lucien, who had home green advantage.
In the second round the Berkeley duo faced each other in an exciting match in which Cris's early lead was gradually pulled back by Rob and a further surge by Cris was again chipped away until it was a 17-17 tie. On the final end, Rob, well-known for his mat strategy, had the mat and placed the jack at maximum depth. After his last bowl, and with Cris having one final shot, Rob held two convincing points and the head was such that a draw shot would be tough. Cris resorted to what he describes as "a Hail Mary" and ran the jack into the ditch for the win. In the other match, Lucien defeated Dave 18-14.
In a relatively quick third game, Lucien was successful against Rob, leaving the possibility of a three-way tie—and the need for a further play-off—if Dave were to beat Cris. A very tight and long struggle that stretched into the gloaming saw the outcome poised on a knife edge with the score 17-16 in Dave's favor. However, despite the gathering dusk and despite wearing sunglasses (not anticipating such a long day, he had forgotten to bring his regular glasses), Cris managed to get three bowls within a foot or so of the jack, thereby offering an inviting target! Dave drove his last bowl at the head, but a slight nick on one of the bowls in the front diverted its path just enough to leave Cris's three in place and the title his.
Congratulations to Cris and well done to all the novice participants!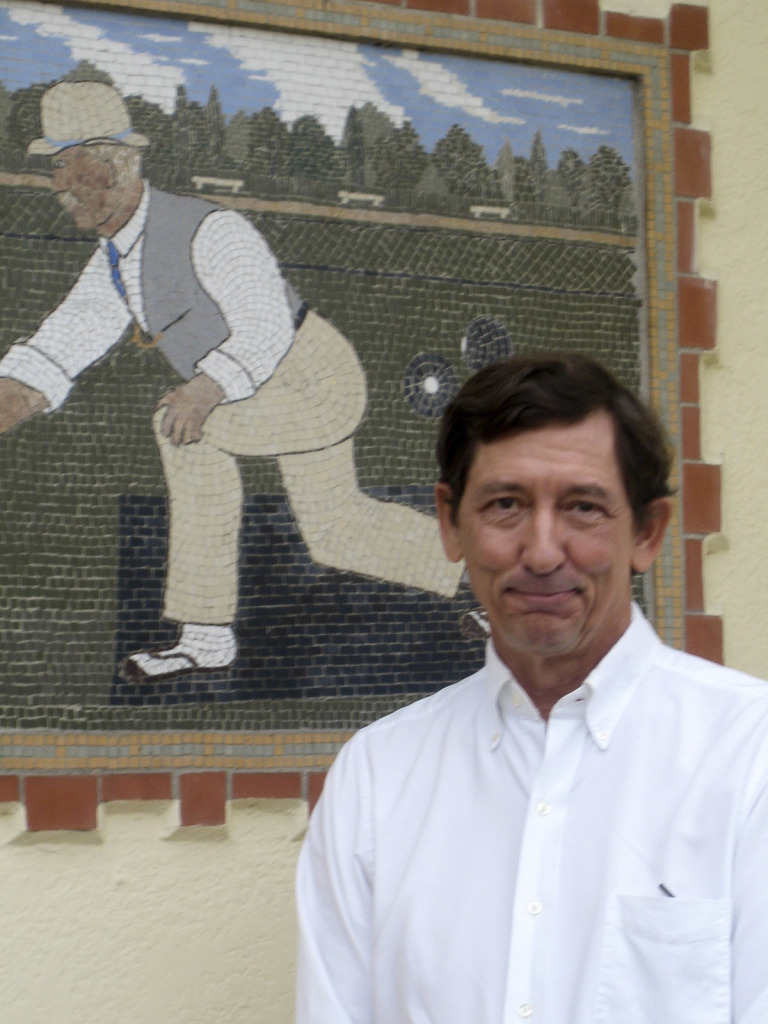 Cris Benton at the Oakland Lawn Bowling Club