The John Ogden Memorial Winter League is a fun but highly competitive tournament held each year during the bowling "off season." John was a much-loved bowler, who, with his dad Woody Ogden (a US Bowls Hall of Famer), organized the tournament for many years. John passed away a couple of years ago and the tournament, originally the San Jose Winter League, was re-named in his honor.
This year, as before, the tournament attracted bowlers from all over the Bay Area, but Berkeley fielded easily the largest number from a single club, with almost a third—nine out of 28—of the entrants. And perhaps even more impressive, Berkeley teams ended up taking three of the four top spots.
The tournament, which was held at the Sunnyvale club, was organized as a 13-game round robin, there being 14 teams in total, and was played over three weekends in January. Unlike the last couple of years when the drought and mild temperatures made a bit of a mockery of the title, this year the event lived up to its billing as the Winter League. Rain jackets and extra layers were needed on the first couple of Saturdays, but the intermittent showers did not dampen the spirits of the participants or lessen their competitive urges.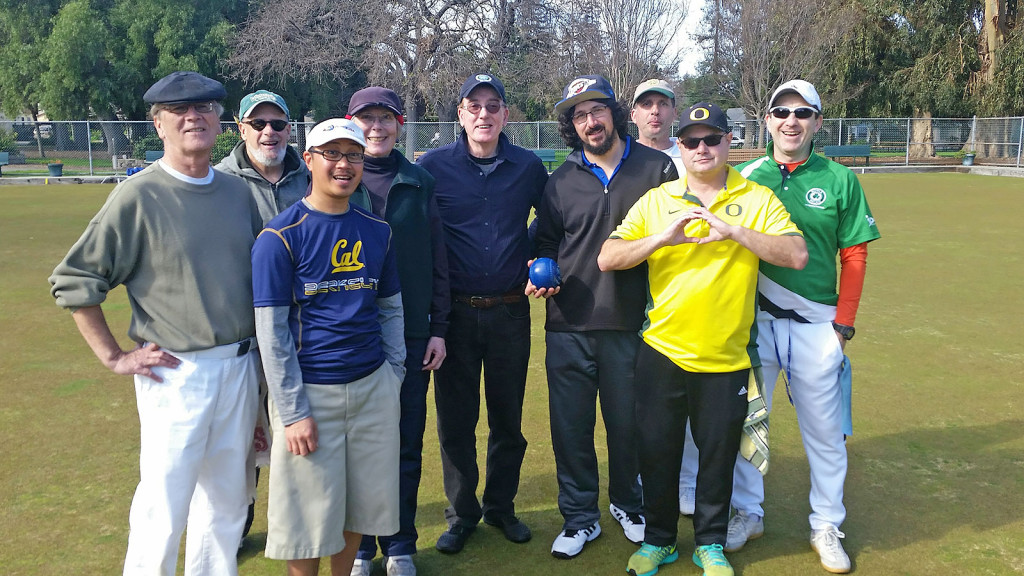 At the end of two weeks, the top spot was held by Frankie Napoli (a joint Rossmoor and Berkeley member) and his partner Dave Peters (Rossmoor) with Berkeley pairs Shawn Roney/Rob Hoey and Jim Corr/Bob Schwartz in hot pursuit. However, on the final Saturday, Frankie and Dave's hitherto stellar mojo left them (they had lost only one game up to that point) and they faded in the stretch. This allowed Shawn and Rob to edge into first place ahead of Jim and Bob by the narrowest of margins—one game point, gained when they held Ginger Harris and Janet Mednick (subbing for absent Mo Shooer) to a draw, while Jim and Bob lost to the same team.
In the final standings, Shawn and Rob placed first, Jim and Bob second, and Berkeley duo Erwin Vista and Ann Brillhart sneaked past Frankie and Dave with a come-from-behind run to snag fourth place. Third was taken by Mario Giorgianni and Ron Marier of San Jose LBC.
Congratulations to all the Berkeley bowlers, and thanks to all those who helped organize and maintain this event despite the fickle wintry season!