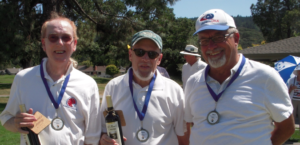 Jim Corr and Bob Schwartz of Berkeley, together with Frank Matyskiela of Palo Alto LBC, took first place in the Sonoma Wine Country Senior Games for the second year in a row.
The games were held June 10-11, as last year, at the Oakmont Lawn Bowling Club in Santa Rosa and attracted teams from as far away as St. George, Utah and Fresno, CA as well as from around the Bay Area. A strong contingent of Oakmont bowlers also participated.
The format differed slightly from last year and allowed all 16 teams to participate fully on Day 2. Saturday, the top eight teams from Friday played a random draw of three 10-end games for Gold and Silver, while the bottom eight teams played off for the bronze medal. By lunch time, three Bay Area teams had won both their morning games. The San Francisco trio won their third game quickly, but with the knowledge that the winner of the Berkeley/PA – all Palo Alto matchup would almost certainly take first place because of a superior points score. As it turned out, after a close start, Jim, Frank, and Bob established a solid lead which Ian, Ginger, and Grace could not catch. In the bronze playoffs, a team from the Leisure Town club in Vacaville—with the delightful name of "Back Bowls Bobs and Marge"—came through for the medal. As an added bonus, this year all medal winners were also presented with a bottle of 2012 Russian River Valley Reserve Zinfandel from St. Anne's Crossing, one of Sonoma County's high-quality vineyards. As an anonymous bowler was heard to comment drolly: "You can't drink a medal!"
A good competitive tournament, very well organized by the Oakmont Club, played in fine bowling weather (unlike last year when temperatures soared well into the 90s). What can be wrong with that? And as side note, the Oakmont Club has requested to re-join the PIMD after some years absence, so here's hoping to see more of their players at tournaments around the region.