Berkeley bowlers competed at two regional competitions in August and one club tournament in early September not reported elsewhere on this site.
First, at the PIMD Mixed Pairs event on August 26 in Sunnyvale, Berkeley's Giulia Gallo, partnered with Seattle's Russ Leonard, took second place, missing the top spot by the narrowest of margins—a 9-10 loss to tournament winners Ian Harris (Palo Alto) and Zarka Popovic (Oakland).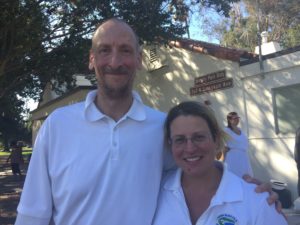 On the following day, Giulia kept up the momentum—this time at the prestigious San Francisco Centennial Cup Invitational, hosted by SFLBC. This mixed triples competition always draws a strong field and along with Jim Corr (Berkeley) and Frank Matskyela (Palo Alto), Giulia again contributed to second place outcome for her team. The Berkeley-Palo Alto combo won all three games, but were surpassed by an all-San Francisco team of Robb Pawlak, Tom Raher, and Christine Raher by a slim points differential of 5 (points scored v points conceded). Not a bad weekend for someone who's still a novice bowler! Two other Berkeley bowlers—John Hooper and Cris Benton, together with Tess Ball (San Francisco)—were "in the money," taking fourth place in the event.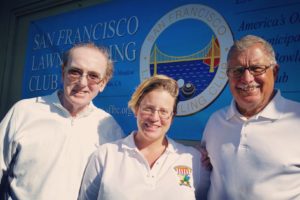 On Saturday, September 2, Berkeley held its own club Two Bowls Singles. An event that does not allow much margin for error and calls for precise drawing to the jack, this year's tournament was held in unseasonably hot weather, adding to the challenge for all involved. Five players battled it out in a round robin format, with Shawn Roney taking the honors and getting to add his name (again) to the winners' board in the clubhouse. Congratulations to Shawn!