Over 90 bowlers from eight clubs celebrated PIMD's Closing Day and PIMD's 50th Anniversary at San Francisco Lawn Bowling Club. Berkeley Lawn Bowling Club was well represented by sixteen bowlers:  Twelve vets and four novices. The format:  One 12-end game in the morning, a break for lunch, and then one 12-end game in the afternoon. Two teams would be awarded 1st Place, 2nd Place and 3rd Place in both the morning and afternoon games. In addition, several ties were awarded. Prizes were awarded at the end of a very fun day!
Six BLBC members won money in the morning game:  Shawn Roney (skip), Frankie Napoli (skip), Bob Schwartz (second), Glenn Nunez (lead), Giulia Gallo (lead), and Sarah Allday (lead in tie game).
Four BLBC members won money in the afternoon:  Rob Hoey (skip), Bob Schwartz (second), Cindy Moss (lead), and Leslie Engler (lead). 
Congratulations to all BLBC winners and to all the BLBC members who participated! 
To celebrate PIMD's 50th anniversary, fifty prizes were awarded based on today's drawing from a large container of raffle tickets collected throughout the year starting on Opening Day. Anyone who played in a PIMD tournament or attended a PIMD meeting was given a raffle ticket. Nine members from our club won prizes! Cathy Dinnean and Sarah Allday each won a bottle of wine. Cris Benton won a set of decorative candles, Gordon Wilson won a Drake's Pride towel and a PIMD 50th Anniversary coin, Annie Brillhart won a box of See's candy, Jim Corr won a $20 gift card donated by PALBC, Cindy Moss won a $25 Bevmo certificate, Millard Long won a $50 Safeway certificate, Shawn Roney won $50 cash, and Frankie Napoli won $100 cash! 
Last, but not least, one of the primary goals of Closing Day is to recognize and encourage novices. Sixteen PIMD novices participated this year. BLBC novices included Cindy Moss, Glenn Nunez, Laile Giansetto, and Giulia Gallo. They are all a welcome addition to our club, and it was great to see them at Closing Day!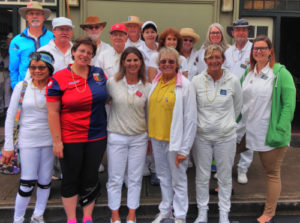 One of the highlights of the day occurred when Bud Birkenseer, PIMD Tournament Director, presented our own Giulia Gallo with a trophy to celebrate her win as the PIMD 2016 Novice of the Year. Well done Giulia!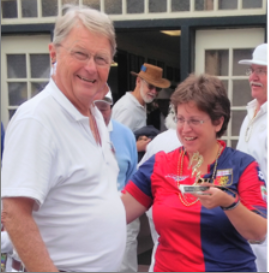 Congratulations to everyone in our club who participated in this tournament!